Review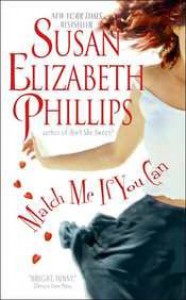 Match Me If You Can - Susan Elizabeth Phillips
Really, can this woman even write a bad book? I'm someone who jumped on the SEP bandwagon late in the game, but I have to say that I've loved everything I've read by this author!
Blending the perfect amount of chemistry, sex, plot, lovable characters, and hilarious dialogue, MATCH ME IF YOU CAN was a book that I couldn't possibly stop listening to. I got this on audio and the narrator, was so amazing that I even set aside reading my kindle to listen. That's huge in my book (no pun intended).
The whole Chicago Stars series has been so fun. I'm sad that I'm getting to the end. I've actually skipped ahead and read this out of sequence. This is book six and I've got to back and read books 4 and 5. But, I didn't feel like I missed out on anything and this book could be read easily as a standalone.
If you haven't tried this author and/or this series, you have no idea what you're missing.